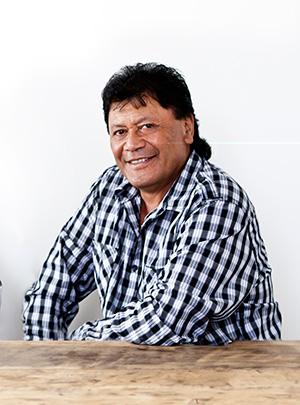 Dennis Marsh is the biggest star on New Zealand's country music scene, a vocalist whose warm, emotionally powerful voice and easygoing performing style have helped him earn six platinum and four gold albums in his homeland.
Dennis Marsh was born on February 22, 1951 in Te Kuiti, a small town on New Zealand's North Island. Marsh was one of ten children, and his father raised sheep for a living, a job that kept the family on the move.
By his own admission, Marsh wasn't very enthusiastic about school, and when he was 18 he set out for Auckland, hoping to land an apprenticeship in carpentry.
While living in a hostel in Auckland, Marsh became involved in New Zealand Youth for Christ, and joined their vocal group, Living Bread, who performed at events in Australia, the Philippines, and Asia, and even recorded an album in 1970. In 1976, Marsh enrolled in a theological college, and in time became assistant minister at the Maori Evangelical Fellowship Church in New Zealand.
In 1984, Marsh visited a country music club for the first time; given his background in Christian music, he was asked to sing, and soon fell in love with the sound and songs of classic country & western.
While Marsh didn't turn his back on gospel, he became a growing presence in New Zealand's country music community, and his frequent touring and strength as a performer helped him win the title of New Zealand Country Music Entertainer of the Year in 1989. That same year, Marsh released his first album, For You, which sold well enough to win him a gold record. Marsh's next four albums -- 1990's Your Choice, 1991's Hobo (In a Silk Shirt), 1992's Feelings, and 1993's Dad -- all earned platinum certification in New Zealand, and in an effort to prove Kiwi country stars were just as valid as their American counterparts, he recorded 1996's Out of Nashville in Nashville, Tennessee, using a band of veteran Music City session musicians.
In 1997, Marsh returned to his roots in gospel music with the album Faith, and 2000's Out of New Zealand earned him a fifth platinum disc. Surgery to replace a heart valve kept Marsh off the road in 2000, and to help bide his time he took over as host on the Country Drive Time Show on Radio Waatea; Marsh's radio spot was so popular that the short-term substitute gig ended up lasting two years, solidifying his reputation as New Zealand's voice of country music.
In 2011, Marsh celebrated his Maori heritage with the album The Maori Songbook, which not only earned him another platinum award but for the first time gave him a New Zealand number one album. Marsh launched another successful venture in broadcasting when he became the host of My Country Song, a series devoted to country music on New Zealand's Maori Television. Marsh confirmed he was still a talent to be reckoned with in 2015 when his 26th album, Lest We Forget, rose to the top of the New Zealand album charts. ~ Mark Deming